Social responsibility. In my opinion we don't hear this enough, especially in business. It's important in any social system to give back when you have success. Over the last couple of years Dvelop.IT has grown considerably and we're very proud of that. Because of this we have partnered with Age UK Milton Keynes in 2018 to raise funds for a charity that's close to our heart.

We have 4 events or fundraising activities coming up this year:
Wear your Pyjamas to work day (April): We thought this might be something fun to kick things off! Everyone is going to pay to wear their PJ's to work as well as ask our business neighbours to donate. Frankly, who doesn't want to see a bunch of IT geeks in their nightwear?
Dragon-boat festival (June): Perhaps our most challenging task for the year. We have partnered with our client (Giantt) to enter the Milton Keynes Dragon Boat Race. We don't hold up much hope for winning but would love to raise a decent amount of money for Age UK. Keep an eye out for our just giving page and please give generously!
Memory club (October): We're still working through the finer details but essentially the memory club is focused on helping people with Alzheimer's and their carers have a break and do something nice. We thought about using technology (i.e. iPods) to bring everyone music from their era, but are still open for suggestions…
Christmas (December): Again, no specific plans yet, but maybe donating gifts and being involved in the memory club at Christmas might be a nice touch.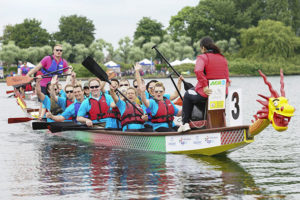 We would encourage any businesses out there who want to give something back to join us. You'll be supporting a wonderful cause, showing your clients that you care about social responsibility and let's face it, have some fun too!
We hope you will support us by donating generously and look forward to seeing what our friends and clients do in regards to social responsibility this year.
The Dvelop.IT team